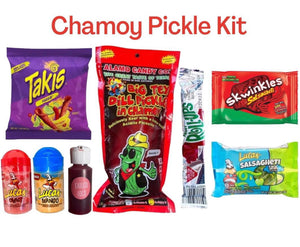 FREE SHIPPING ON TIKTOK SHOP :) . .       .
The delicious chamoy pickle kit comes with everything you need to make the best chamoy pickle you have ever tasted. 
The Chamoy Pickle Kit Includes:

(SUBJECT TO CHANGE due to availability )
• 1 chamoy pickle
• 1 mini chilitoloco chamoy
• 1 skwinkles sour (SUBJECT TO CHANGE)
• 1 skwinkles watermelon
• 1 lucas chamoy powder
• 1 lucas mango powder
• 1 1oz bag of takis
• 1 Fruit rollups 
AMAZING!
Super good! Definitely ordering again!
chamoy pickle
i got the chamoy pickle kit and also ordered a candy mystery box. everything was so yummy and super fun to try! 10/10 recommend!
Pickled gummies
Amazing fast delicious treats !!!