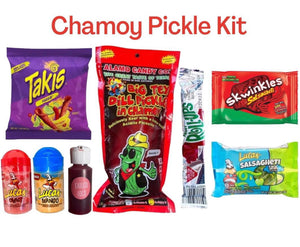 FREE SHIPPING ON TIKTOK SHOP :) . .       .
The delicious chamoy pickle kit comes with everything you need to make the best chamoy pickle you have ever tasted. 
The Chamoy Pickle Kit Includes:

(SUBJECT TO CHANGE due to availability )
• 1 chamoy pickle
• 1 mini chilitoloco chamoy
• 1 skwinkles sour (SUBJECT TO CHANGE)
• 1 skwinkles watermelon
• 1 lucas chamoy powder
• 1 lucas mango powder
• 1 1oz bag of takis
• 1 Fruit rollups 
I don't really like chamoy pickles but if there's some one that really likes pickles then buy this
I still have not received my order. I ordered on september 28 and it's been more than a month now.
Haven't received my order
They want me to write a review when my order has not been shipped. It's been about three weeks. I am kinda regretting placing an order.
Have not received products
This is interesting news that you shipped it 15 days ago, because USPS hasn't received it yet. I have not received my products and I hope you can fix this. Thank you
Terrbl
A fatal experience, I placed the order a month ago and it never arrived, at least give me my money back