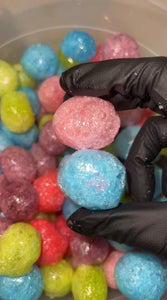 m
10-14 puff balls, 1oz

flavors:
 cherry
 greenapple
 watermelon
 blue rass
Tiktok shop product size is different than the one here.
Review
I was actually quite upset, that wasn't at all what I ordered and I had to go through so much switching my cards and freezing my accounts due to someone having a false link about your account and I put in my card details thinking it was for you when it was a scam, I had to get a whole new card a whole new pin and everything it took days to get my new card, and all for me to get the wrong order. Just horrible. I ordered jolly ranchers and I got fruit roll ups. Why? Just so bad, I was so excited and waiting for two weeks or more and all of that for nothing.
Freeze dried colorful Puff Balls
haven't received my order yet
Skittles and puffs
Super yummy. I prefer them freeze dried now 😋 first time trying freeze dried candy and now I'm hooked
Awesome candy!
I loved everything it was sooooo good, absolutely love the Chamoy !