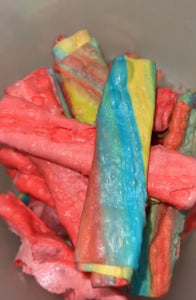 3 rolls freeze dried (WARNING) they may break since they are delicate but they are still edible and delicious
Fruit roll up skittle puff
Pretty good
Overall, the product was very tasty. I loooove fruit roll ups. Unfortunately, one of my bags was open at the top and one of the fruit roll ups wasn't freeze dried all the way and had a kind of tough gummy texture. But overall, i was happy with the product.
2 different flavors😩
these were so good😩😩😭 10/10 would buy again wasn't really a fan of the pickle kit but the pickle alone was good lol but the fruit roll ups were amazing!