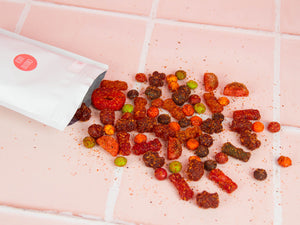 Gushers, skittles, gummybears, sourpatch, and sourpatch watermelon covered in chilito and chamoy
Me & the kids loved it
I never knew my kids loved spicy candies! The Chilitoloco mix is a great place to start if you don't know which one you like. My favs were the peach rings & we all loved the Salsaghetti. Highly recommend!
Chilito mix
Candy arrived quickly and is so good would buy again.
Wholesome candy
Soft yet so wholesome love it!!!!
Love everything in it wish there was more powder though
A M A Z I N G
Candy arrived quickly. And 100% worth it. Decent size for $1. My first time trying from here and will definitely will be reordering soon