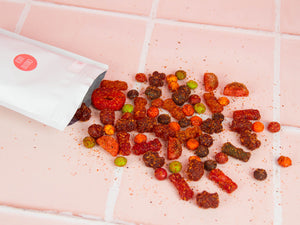 Gushers, skittles, gummybears, sourpatch, and sourpatch watermelon covered in chilito and chamoy
Very good
These are very good. Good candies. Took forever to ship but I'm sure they're busy. Very sour, which I love.
Good candy. Not very fast.
The candy and chamoy was delicious. However the time it took to get here was a very long time. I order over a month ago and just received my package. After I had emailed and tried to contact multiply times, I had received nothing back. I was not impressed with communication over the waiting process.
Me & the kids loved it
I never knew my kids loved spicy candies! The Chilitoloco mix is a great place to start if you don't know which one you like. My favs were the peach rings & we all loved the Salsaghetti. Highly recommend!
Chilito mix
Candy arrived quickly and is so good would buy again.
Wholesome candy
Soft yet so wholesome love it!!!!